Today it's my pleasure to introduce author Cath Barton. Cath writes novellas, short stories, flash fiction and reviews. She won the New Welsh Writing AmeriCymru Prize for the Novella for The Plankton Collector, now published by New Welsh Review. Her second novella, In the Sweep of the Bay, was published on 23rd November by Louise Walters Books.
Cath lives in in Abergavenny, South Wales, with her husband Oliver and their cat Feely.
Over to Cath,
Which five pieces of music/songs would you include in the soundtrack to your life and why?
It's tricky to keep this to 5, but here goes:
I remember my Dad buying a record player (one of those big chunky ones in a box) when I was about 12 years old. One of the records he bought was songs from the Rodgers and Hammerstein musical Oklahoma! I especially loved Oh, What A Beautiful Mornin'. This recording is from one of the brilliant John Wilson Orchestra Proms.
---
The soundtrack to my teens is all about The Beatles. I've still got my copy of The White Album, complete with pictures. I don't think I would have chosen Happiness is a Warm Gun as my favourite track from that album at that time, but now I love the zaniness of the lyrics and the way the music builds to the smooch of the last section.
---
Fast forward a couple decades. I did a workshop called The Mastery of Self Expression which really brought me out of my shell. It involved a session when we danced to the Pointer Sisters' song Jump. I had never felt so joyous and carefree!
---
The Mastery gave me confidence to take strides forward with solo singing. When I met Oliver, who was to become my husband, he introduced me to lots of new songs. Sure on This Shining Night by Samuel Barber was one of them, a beautiful song which is very special to me.
---
Singing in choirs has also been important to me for most of my life, so I have to include something from the choral repertoire. I'll chose Haydn's motet Insanae et Vanae Curae, a favourite of mine from when Oliver and I sang in the choir of The Lord Mayor's Chapel in Bristol for a number of years. We rather irreverently used to refer to it as 'Insane and Vain Curates'!
What five things (apart from family and friends) would you find it hard to live without.
A cat in the house
Coffee
Books
Music
A garden
Give five pieces of advice to your younger self?
Don't waste time
Believe in yourself
Take more risks
Write now – you can!
Travel the world before you settle down
Tell us five things that most people don't know about you
I spent two days on my own in the Sinai desert, fasting. I did hallucinate, a little.
I used to do a classical music programme on a community radio station – to the best of my knowledge I had two regular listeners.
I once had a little gardening business called The Moving Green Finger.
When I went trekking in the Himalayas I lost my appetite – if I lived at high altitude I'd be a thin person (though not necessarily a happy one).
When I first knitted socks my husband said I was never to do it again because I swore so badly when I dropped stitches. (I have, however, done it again, and got better at it and so less sweary.)
Tell us five things you'd still like to do or achieve.
I'd like a publisher for my short story collection.
I'd like someone to make a film or TV adaptation of my novella In the Sweep of the Bay.
I am writing the story of my Auntie Phyllis, a famous circus artiste; and I would like that to become a full-length novel, and have it published by a mainstream publisher.
I'd like to have three more books published by the time I'm 75. (I'm 70 now, had my first book published at 68, and my second this year.)
I'd like to stay healthy so as to be able to achieve the above.
Many thanks for sharing with us today Cath, I love discovering new classical pieces I haven't heard before and I enjoyed your choices. Glad to see books making an appearance in your can't live 'withouts' – you are in good company. Your Sinae desert and Himalayas trips sound fascinating, so I'm glad to see you did see some of the world. I'm sure we're all keen to read the story of Auntie Phyllis, she sounds fascinating. Though I'm sure you have stories of your own to tell given some of the things you've done. I'm sure those three books are do-able and I really hope you manage to tick off the rest of the items on your list.
Cath's Books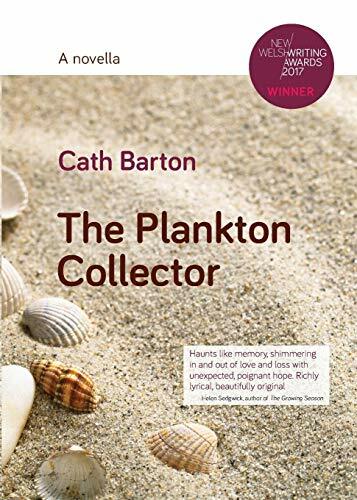 In this atmospheric novella, the mysterious Plankton Collector visits members of a family torn apart by grief and regret. he comes in different guises. For ten year-old Mary, he is Mr Smith who takes her on a train journey to the seaside. Her mother, Rose, meets him as Stephen, by her son's graveside. Rose's youngest, Bunny, encounters him as the gardener. For husband and father David, meanwhile, the meeting is with a love from his youth. And long-lost Uncle Barnaby takes the children for a week's holiday during which their parents begin a reconciliation. All visitors are manifestations of the Plankton Collector who teaches those he encounters the difference between the discarded weight of unhappy memories and the lightness borne by happiness recalled.
---
This warm-hearted tale explores marriage, love, and longing, set against the majestic backdrop of Morecambe Bay, the Lakeland Fells, and the faded splendour of the Midland Hotel. Ted Marshall meets Rene in the dancehalls of Morecambe and they marry during the frail optimism of the 1950s. They adopt the roles expected of man and wife at the time: he the breadwinner at the family ceramics firm, and she the loyal housewife. But as the years go by, they find themselves wishing for more… After Ted survives a heart attack, both see it as a new beginning… but can a faded love like theirs ever be rekindled?