Honno Press was conceived in a Cardiff kitchen in 1986. It was the creation of a group of determined women who sought a women's press for books that were relevant to the women of Wales. While England had Virago and The Woman's Press (among others) and Ireland had Attic Press, none of the Welsh publishers appeared interested in promoting Welsh Women's literature, or writers, in either English or Welsh.
On 1st March (St David's Day) 1987, Honno published it's first two books – one in Welsh and one in English. Both were about two inspirational Welsh women and were carefully chosen.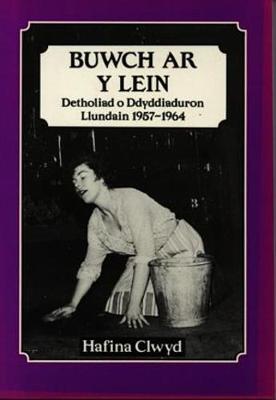 Buwch ar y Lein is the diaries of Hafina Clwyd who was part of the golden era of the London Welsh in the 1950s and 1960s. Described as one of the liveliest women journalists ever produced in Wales, Hafina helped form Clwb Llyfrau Cymraeg, a forerunner of the Welsh books council, became mayor of Ruthin town council, and was awarded the white robe order of the Gorsedd of Bards in 1992 for her services to journalism in Wales. (now out of print)
The Autobiography of Elizabeth Davis was a republication of the fascinating story of the nineteenth century Welsh woman Elizabeth Davis, also known as Betsy Cadwaladyr, the 'Balaclava nurse". It is a unique record of the experience of an early nineteenth century Welsh working woman. Elizabeth Davis' time as a hospital nurse in Balaclava in the Crimea, where she served under Florence Nightingale, is a central part of her life story. It is still in print, having been revised several times, as Betsy Cadwaladyr: A Balaclava Nurse
---
From it's humble beginnings Honno has gone on to flourish and is now the longest-standing independent women's press in the UK. It won its first award in 1989 and has consistently acquired many more since – click here for details of award winning and listed titles. In addition to publishing contemporary authors across a variety of genres, they also publish Welsh Women's Classics.
I first became aware of Honno in early 2017 when I read and reviewed The White Camellia by Juliet Greenwood. I've since gone on to buy more by Juliet. I've also been lucky enough to meet Judith Barrow and Thorne Moore, another two of Honno's author's, at Northwich LitFest in 2019. All three authors have kindly taken part in Five on Friday, along with, more recently Carol Lovekin. As a consequence I'm building up a little library of Honno reads and always on the look-out for future titles.
My Honno Library
A Hundred Tiny Threads by Judith Barrow
It's 1911 and Winifred Duffy is a determined young woman eager for new experiences, for a life beyond the grocer's shop counter ruled over by her domineering mother.
The scars of Bill Howarth's troubled childhood linger. The only light in his life comes from a chance encounter with Winifred, the girl he determines to make his wife.
Meeting her friend Honora's silver-tongued brother turns Winifred's heart upside down. But Honora and Conal disappear, after a suffrage rally turns into a riot, and abandoned Winifred has nowhere to turn but home.
The Great War intervenes, sending Bill abroad to be hardened in a furnace of carnage and loss. When he returns his dream is still of Winifred and the life they might have had… Back in Lancashire, worn down by work and the barbed comments of narrow-minded townsfolk, Winifred faces difficult choices in love and life.
---
Pattern of Shadows by Judith Barrow
Mary is a nursing sister at Lancashire prison camp for the housing and treatment of German POWs. Life at work is difficult but fulfilling, life at home a constant round of arguments, until Frank Shuttleworth, a guard at the camp turns up. Frank is difficult to love but persistent and won't leave until Mary agrees to walk out with him.
---
The Memory by Judith Barrow
Mother and daughter tied together by shame and secrecy, love and hate.

I wait by the bed. I move into her line of vision and it's as though we're watching one another, my mother and me; two women – trapped.
Today has been a long time coming. Irene sits at her mother's side waiting for the right moment, for the point at which she will know she is doing the right thing by Rose.
Rose was Irene's little sister, an unwanted embarrassment to their mother Lilian but a treasure to Irene. Rose died thirty years ago, when she was eight, and nobody has talked about the circumstances of her death since. But Irene knows what she saw. Over the course of 24 hours their moving and tragic story is revealed – a story of love and duty, betrayal and loss – as Irene rediscovers the past and finds hope for the future.
---
The White Camellia by Juliet Greenwood
1909. Cornwall. Her family ruined, Bea is forced to leave Tressillion House, and self-made business woman Sybil moves in. Owning Tressillion is Sybil's triumph – but now what? As the house casts its spell over her, as she starts to make friends in the village despite herself, will Sybil be able to build a new life here, or will hatred always rule her heart?
Bea finds herself in London, responsible for her mother and sister's security. Her only hope is to marry Jonathon, the new heir. Desperate for options, she stumbles into the White Camellia tearoom, a gathering place for the growing suffrage movement. For Bea it's life-changing, can she pursue her ambition if it will heap further scandal on the family? Will she risk arrest or worse?
When those very dangers send Bea and her White Camellia friends back to Cornwall, the two women must finally confront each other and Tresillion's long buried secrets.
---
Eden's Garden by Juliet Greenwood
2011 Carys' dreams for the future are falling apart as she returns to the Snowdonia village where she was born, to look after her mother. But then a chance discovery draws her back into the story of Plas Eden, the huge ramshackle country house where, at eighteen, she said goodbye to her childhood sweetheart, David Meredith.
1898 The last time Ann was in London, she was a spoilt, aristocratic bride. Now she stands destitute on London Bridge, with the Meredith Charity Hospital her only lifeline. But who can she trust, and will she ever escape her past?
Two women struggle with love, family duty, long-buried secrets and their own creative ambitions. But more than a hundred years ago Ann left a trail through London, Cornwall and Wales that leads Carys on a tantilising and increasingly shocking search for the truth.
What is Plas Eden's connection with her own family history and what are the secrets of the statues in the garden?
---
We That are Left by Juliet Greenwood
August 4th, 1914: 'It was the day of champagne and raspberries, the day the world changed.' Juliet Greenwood's moving, thrilling novel honours the sacrifice of soldiers and civilians in World War I and captures how lives were changed afterwards, some destroyed, but some, with love and courage, rebuilt anew. Elin lives a luxurious but lonely life at Hiram Hall. Her husband Hugo loves her but he has never recovered from the Boer War. Now another war threatens to destroy everything she knows. With Hugo at the front, and her cousin Alice and friend Mouse working for the war effort, Elin has to learn to run the estate in Cornwall, growing much needed food, sharing her mother's recipes and making new friends – and enemies. But when Mouse is in danger, Elin must face up to the horrors in France herself. And when the Great War is finally over, Elin's battles prove to have only just begun.
---
Wild Spinning Girls by Carol Lovekin
If it wasn't haunted before she came to live there, after she died, Ty'r Cwmwl made room for her ghost. She brought magic with her.
And the house, having held its breath for years, knew it. Ida Llewellyn loses her job and her parents in the space of a few weeks and, thrown completely off course, she sets out for the Welsh house her father has left her. Ty'r Cwmwl is not at all welcoming despite the fact it looks inhabited, as if someone just left…
It is being cared for as a shrine by the daughter of the last tenant. Determined to scare off her old home's new landlord, Heather Esyllt Morgan sides with the birds who terrify Ida and plots to evict her. The two girls battle with suspicion and fear before discovering that the secrets harboured by their thoughtless parents have grown rotten with time. Their broken hearts will only mend once they cast off the house and its history, and let go of the keepsakes that they treasure like childhood dreams.
---
A Time for Silence by Thorne Moore
When Sarah, struggling to get over tragedy, stumbles across her grandparents' ruined farm, it feels as if the house has been waiting for her. She is drawn to their apparently idyllic way of life and starts to look into her family history only to learn that her grandfather, Jack, was murdered. Why has nobody told her? Sarah becomes obsessed with finding out what happened to Gwen and Jack. But are there some family stories that should never be told…
---
The Unravelling by Thorne Moore
When they were ten everybody wanted to be Serena's friend, to find themselves one of the inner circle. But doing so meant proving your worth, and doing that often had consequences it's not nice to think about – not even thirty-five years later.
Karen Rothwell is randomly reminded of an incident in her childhood which just as suddenly becomes an obsession. It takes her on a journey into a land of secrets and lies; it means finding that gang of girls from Marsh Green Junior School and most importantly of all finding Serena Whinn.
Remember No More by Jan Newton
Newly promoted DS Julie Kite is at a crossroads. Her husband's new job takes her away from urban Manchester and its inner city problems to a new life in tranquil mid-Wales. It is to be a new start for them both. On her first day at Builth Wells police station, Julie is thrust unexpectedly into the centre of a murder investigation in a remote farming community. At the same time, Stephen Collins is set free from HMP Strangeways. He immediately makes his way back to mid-Wales, the scene of his heinous crime, in order to confront those who had a hand in his incarceration.
The twists and turns of the investigation into the death of solicitor Gareth Watkin force DS Kite to confront her own demons alongside those of her new community and the lengths to which we'll go to protect our families.
---
A Different River by Jo Verity
Miriam had been freewheeling into a comfortable future, but after a bitter betrayal she's stuck between the dual spectres of maternal servitude and obligation to her octogenarian parents.
A random encounter at the local arts centre presents her with job opportunity she would never have imagined in a million years. Mere weeks later, on a visit to her childhood home, she hears news that offers a chance to rewrite the past.
Given the luxury of hindsight, making the right decisions about her professional and private lives should be a breeze… But can Miriam's instincts be trusted? There's only one way to find out, she must pinch her nose and jump right in.
---
Some More Recent and Forthcoming Titles to Tempt You
The Covenant by Thorne Moore
The Owens are tied to this Pembrokeshire land – no-one will part them from it.
Leah is tied to home and hearth by debts of love and duty – duty to her father, turned religious zealot after the tragic death of his eldest son, Tom; love for her wastrel younger brother Frank's two motherless children. One of them will escape, the other will be doomed to follow in their grandfather's footsteps.
At the close of the 19th century, Cwmderwen'stwenty-four acres, one rood and eight perches are hardwon, the holding run down over the years by debt and poor harvest. But they are all the Owens have and their rent is always paid on time. With Tom's death a crack is opened up and into this chink in the fabric of the family step Jacob John and his wayward son Eli, always on the lookout for an opportunity.
Saving her family, good and bad, saving Cwmderwen, will change Leah forever and steal her dreams, perhaps even her life…
The Covenant is the shocking prequel to the bestselling A Time For Silence.
---
The Party Wall by Stevie Davies
How well do you know your neighbours?
Whatever I can do for Freya, I'll gladly and honourably do, he told himself, grateful for the calm intentness of his spirit. She schooled him. She made him a better person. There was an overarching sense of forgiveness. Not that there was anything Mark should be forgiven for.
Mark lives next door to Freya. When her husband dies, he determines to be her saviour come what may. Whether that means walking the dog, minding the house or taking her out on day trips… However, her neighbours the other side keep getting in the way, as do her two lumpen brothers-in-law.
But Mark has another life, one he hasn't told Freya about, one that increasingly impinges on his desire to make Freya his own. As he lies in his bed at night, listening to her movements the other side of the wall, the gentle sighing and creaking of bed springs, he plots his movements towards an idyllic future. A future that doesn't feature the ex-girlfriend who still lives in his other house, or his dead wife. As Mark ingratiates himself, Freya – lost in a sea of grief – only slowly begins to realise that Mark's motives may not be as compassionate as they seem.
---
Advent by Jane Fraser
Winter, 1904, and feisty twenty-one-year-old Ellen has been summoned back from her new life in Hoboken, New Jersey, to the family farm on windswept Gower, in a last bid to prevent the impending death of her alcoholic father.
On her return, she finds the family in disarray. Ailing William is gambling away large swathes of Thomas land; frustrated Eleanor is mourning the husband she once knew; and Ellen's younger twin brothers face difficult choices. Ellen, tasked with putting her family's lives in order, finds herself battling one impossible decision after another.
Resourceful, passionate, and forthright, can she remain in Gower, where being female still brings with it so many limitations? Can she endure being so close to her lost love? Will she choose home and duty, or excitement and opportunity across the Atlantic?
---
The Heart Stone by Judith Barrow
1914 – and everything changes for Jessie on a day trip to Blackpool. She realises her true feelings for her childhood friend, Arthur. Then just as they are travelling home from this rare treat, war is declared. Arthur lies about his age to join his Pals' Regiment. Jessie's widowed mother is so frightened of the future, she agrees to marry the vicious Amos Morgan, making Jessie's home an unsafe place for her. Before he leaves, Arthur and Jessie admit their feelings and promise to wait for each other. Arthur gives Jessie a heart-shaped stone to remember him. But with Arthur far away, their love leaves Jessie with a secret that will see her thrown from her home and terribly abused when she can hide the truth no longer. Faced with a desperate choice between love and safety, Jessie must fight for survival, whatever the cost.
---
The Queen of Romance : Margeurite Jervis, a Biography by Liz Jones
Daughter of an officer of the Indian Medical Corps, Marguerite Florence Laura Jarvis (1886-1964) was born in Burma and became one of the most successful novelists of her time.
During the course of her 60-year career, Marguerite published over 140 books, with 11 novels adapted for film, including The Pleasure Garden (1925), the directorial debut of Alfred Hitchcock. In her heyday she sold hundreds of thousands of novels, but is now largely forgotten; undern numerous pseudonyms she wrote for newspapers, women's magazines and the silent movie screen; she married on of Wales' most controversial literary figures, Caradoc Evans. She also trained as an actress and was a theatrical impresario. Known variously as Mrs. Caradoc Evans, Oliver Sandys, Countess Barcynska and many other pseudonyms, who was she really?
Liz Jones has dug deep beneath the tale told in Marguerite Jerviv's own somewhat romanticised memoir to reveal what made this driven and determined woman, and turned her from a spoilt child of the English middle classes to a workaholic who could turn her hand to any literary endeavour and who became a runaway popular success during the most turbulent years of the 20th century.
---
Emmet and Me by Sara Gethin
Summer 1966: When her father comes home with lipstick on his collar, ten-year-old Claire's life is turned upside down. Her furious mother leaves the family and heads to London, and Claire and her brothers are packed off to Ireland, to their reclusive grandmother at her tiny cottage on the beautifully bleak coast of Connemara. A misfit among her new classmates, Claire finds it hard to make friends until she happens across a boy her own age from the school next door. He lives at the local orphanage, a notoriously harsh place. Amidst half-truths, lies and haunting family secrets, Claire forms a forbidden friendship with Emmet – a bond that will change both their lives forever.
---
A great selection I'm sure you'll agree. Honno have far more to offer than the snapshot I've given you here, so you can checkout their full catalogue here.