Happy Publication Day to Judith Barrow as The Heart Stone makes its way into the book world today. Judith writes character driven, well researched historical family sagas and contemporary fiction. The Heart Stone has a Great War setting, a period she has previously visited in A Hundred Tiny Threads.
What's the book about?
1914 – and everything changes for Jessie on a day trip to Blackpool. She realises her true feelings for her childhood friend, Arthur. Then just as they are travelling home from this rare treat, war is declared. Arthur lies about his age to join his Pals' Regiment. Jessie's widowed mother is so frightened of the future, she agrees to marry the vicious Amos Morgan, making Jessie's home an unsafe place for her. Before he leaves, Arthur and Jessie admit their feelings and promise to wait for each other. Arthur gives Jessie a heart-shaped stone to remember him. But with Arthur far away, their love leaves Jessie with a secret that will see her thrown from her home and terribly abused when she can hide the truth no longer. Faced with a desperate choice between love and safety, Jessie must fight for survival, whatever the cost.
Pals Brigades and excerpt
In The Heart Stone, Jessie's young love, Arthur, joins the local Pals Brigade, even though, at sixteen, he is too young. These brigades were specially constituted battalions of the British Army made up of men who had enlisted together in local recruiting drives, with the assurance that they would be able to serve alongside their friends, neighbours and colleagues, rather than being arbitrarily allocated to battalions. Unfortunately this was to have disastrous consequences for local areas and neighbourhoods as many of these pals battalions suffered heavy casualties during the Somme offensives in 1916. A sad example is that of the Accrington Pals who were ordered to attack the village of Serre-lès-Puisieux on the first day of the battle. Of the estimated 700 Pals who were involved 235 were killed and 350 wounded within half an hour.
Judith explores the subject of the Pals Brigades in more detail here.
Excerpt included in Judith's Pals Brigade post.
Chapter Eighteen September 20th 1914

She didn't go to watch him leave the town with the other two hundred men and boys either. Through her opened bedroom window, she listened to the uneven thud of their undisciplined marching between the changing tunes of the brass band and the singing. How she resented the singing. And the cheering.

Sitting on her bed, her handkerchief sodden between her fingers, she tried to shut down the images she'd conjured up in her mind of what Arthur might face. She had no idea, but she'd read in the newspapers about the atrocities the Germans were committing in Belgium; killing randomly, deliberate cruelty. What kind of men were they?

Despite Amos Morgan's constant calls to go down to serve in the shop, she ignored him. She wouldn't face the excitement, the proud chatter of the customer. She didn't, wouldn't, couldn't share it.

Eventually the crowds moved away from in front of the shop. She heard the noise from below quieten to a low murmur and thought bitterly that Amos Morgan would be worried about making less money now so many men had gone. Gone to a foreign land to be killed in a war that her own country shouldn't have become involved in. It didn't make sense to her.
What early readers are saying
"Heart-rending but uplifting" — Helen Carey
"I defy any reader not to be deeply moved by Jessie s resilience and spirit" –Sally Spedding
"Jessie is a heroine I rooted for all the way. She is a survivor who never gives up, doing her best to keep her son safe and to make a good life for him" –Juliet Greenwood
"Judith Barrow joins my list of favourite authors" –Anne Marie Brear
You can get your copy via the following (affiliate) purchase links
Discover more via the Blog Tour starting today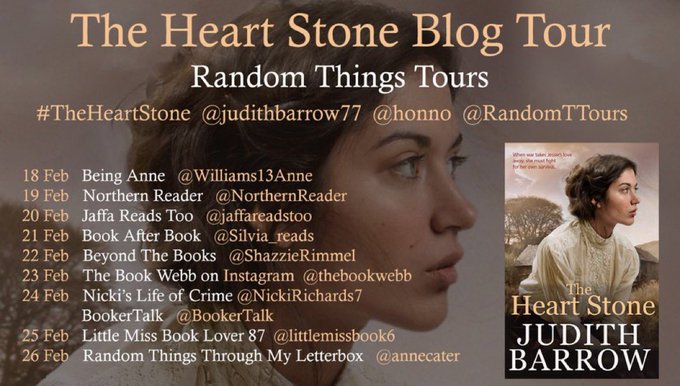 About the Author
Although I was born and brought up in a small village on the edge of the Pennine moors in Yorkshire, for the last forty years I've lived with my husband and family near the coast in Pembrokeshire, West Wales, UK, a gloriously beautiful place.
I've written all my life and have had short stories, poems, plays, reviews and articles published throughout the British Isles. But I only started to seriously write novels after I'd had breast cancer twenty years ago.
Four novels safely stashed away, never to see the light of day again, I had the first of my historical family saga trilogy, Pattern of Shadows, published in 2010, the sequel, Changing Patterns, in 2013 and the last, Living in the Shadows in 2015. The prequel, A Hundred Tiny Threads was published in August 2017. All published by Honno.
The Memory, was published by Honno in Mar. 2020; a more contemporary family saga."Mother and daughter tied together by shame and secrecy, love and hate."
My next book, The Heart Stone is due to be published in 2021
I have an MA in Creative Writing, B.A. (Hons.) in Literature, and a Diploma in Drama and Script Writing. I am also a Creative Writing tutor for Pembrokeshire County Council's Lifelong Learning Programme and give talks and run workshops on all genres.
When I'm not writing or teaching, I'm doing research for my writing, walking the Pembrokeshire coastline or reading and reviewing books.
---
You can follow Judith via her website, Facebook and Twitter. You can also catch up with her Five on Friday feature for this blog here.