Delighted to wish Fiona Erskine 'Happy Publication Day' on the paperback release of The Chemical Reaction. It marks the welcome return of explosives expert Dr Jaq Silver following her previous exploits in The Chemical Detective. Having escaped near death in Chernobyl, we left Jaq on an un-seaworthy yacht in the middle of the Black Sea. Now we find her facing her old nemesis Frank Good in China.
What's the book about?
As Jaq is pulled further into a murky underworld of deceit and corruption, things take an explosive turn… After escaping almost certain death amidst the ruins of Chernobyl, Jaq finds herself in even hotter water.
Deep in debt, she decides to take on a risky contract in China.
But when her former student and the chemical factory she was meant to be investigating both mysteriously disappear, she realises nothing is as it seems. From fraudulent art auctions in London to a troupe of male strippers in Shanghai, the mystery of the vanishing factory begins to look ever more complicated as the days pass.
Can Jaq work out what happened – and whether it has anything to do with her nemesis Frank Good – before time runs out?
Read an extract
As Jaq waited at the station for the Eaglescliffe train, she checked her phone. Three missed calls and two voicemails. A message … inviting her to spend Christmas in Coniston. Jaq smiled and shook her head. Simultaneously a very lovely and a very bad idea. A briefer message from her mother's care home, asking her when she planned to make the next payment.
On the opposite platform, the London train pulled out of the station, heading north to Inverness. From Aberdeen it was an overnight ferry to Shetland. And as soon as she finished this bizarre China contract, that was where she was headed.
Jaq pulled the Shetland hat over her ears and wished she was already there.
On the platform opposite her, a young man stood still. The wind whipped his long hair into writhing red snakes, and he stopped to gather it into a band. As he lifted his head, the red curls now secured in a topknot, he looked directly across the tracks. He hefted his large sports bag and moved towards her like a gymnast, his movements controlled, precise, almost languid.
Beauty is a powerful tonic. You know it when you see it, and sometimes it is uplifting to soak it in. A displacement activity, watching this young Adonis with his perfect physique on his way to a date with some lucky partner, she followed his progress towards the subway and reappearing on her platform, striding towards the exit and the footbridge that led into town.
She couldn't control her response, it was a chemical reaction: phenylalanine to tyrosine to levodopa to dopamine to norepinephrine. The neurotransmitters increasing her heart rate and blood pressure, triggering the release of glucose from energy stores.
As he drew level, striking hazel eyes found hers. He smiled and she looked away, embarrassed to have been caught staring.
What was she playing at? He was far too young for her. And students were always off limits, even now she was no longer a university lecturer.
Once he was out of sight, Jaq called Vikram to ask when she would be paid.
What readers are saying
'Action, intrigue and a stonkingly modern heroine. It's a blast.' Sunday Times Crime Club
'Intricate, seductive and thrilling. Erskine's writing glows with wit and danger.' Ross Armstrong, author of The Watcher
'Get yourself the first one and settle down to a two book chemical explosion of a reading experience!'
The booktrail
Fiona Erskine is an engineer, and in Jaq Silver, who shares her profession, she has created a wonderful antidote to all the resentful, floppy victims of much domestic noir… Her adventures are eye-popping and exciting.'― Literary Review
'Erskine weaves her tale of suspense into a first-class thriller, the drama escalates with terrifying authenticity. A must-read for engineers.' ― Nick Smith, Engineering & Technology
'an audacious, female-led thriller which took the disposable women of the James Bond franchise and flipped the concept entirely on its head.'― Chemistry World
"I've been looking for a while for a woman-in-a-man's-world thriller, and so was delighted to read Fiona's debut. In real life Fiona is herself a chemical engineer, and so she knows all too well what it's like to be a woman outnumbered and far from home." Jenny Parrott, publishing director of Point Blank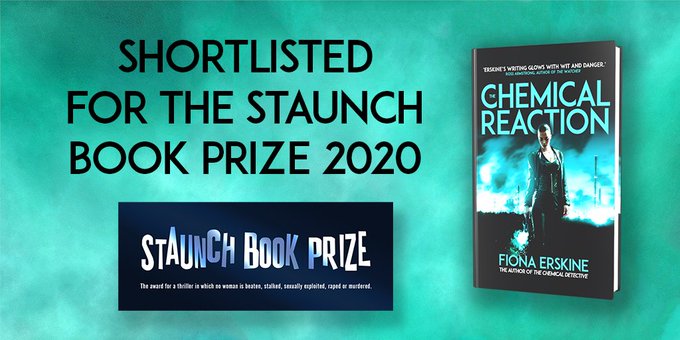 ---
If you're thinking this is not your sort of book, I thought exactly the same when I picked up the first in the series The Chemical Detective, but I loved it. It was a pacy, adventure/thriller that grabbed me from the start. Jaq Silver is a kick-ass heroine, if James Bond and Lara Croft had an adult love child, then I imagine Jaq would fit the bill nicely. She's an intelligent, older woman with a penchant for young attractive men – my kind of role model! If you like a gripping, location hopping tale, with an intelligent, well researched contemporary plot, then give this series a go.
The Chemical Detective (Book 1)
Dr Jaq Silver. Skier, scientist, international jet-setter, explosives expert. She blows things up to keep people safe.
Working on avalanche control in Slovenia, Jaq stumbles across a problem with a consignment of explosives. After raising a complaint with the supplier, a multinational chemical company, her evidence disappears and she is framed for murder. Jaq must find the key to the mystery.
But can she uncover the truth before her time runs out?
About the Author
Engineer by day, writer by night.
Fiona was born in Edinburgh, and grew up playing guitar, riding motorbikes and jumping into cold water. After studying Chemical Engineering at University she learned to weld, cast and machine with apprentices in Paisley before working internationally as a professional engineer. She is now based in the north east of England.
Fiona's debut novel, The Chemical Detective (2019), was shortlisted for the Specsavers Debut Crime Novel Award. Her second thriller in the Jaq Silver series, The Chemical Reaction (2020), was shortlisted for the Staunch Prize.
Her latest novel, Phosphate Rocks: A Death in Ten Objects is published by Sandstone Press in June 2021.
Catch Fiona's Five on Friday feature here.