I'm delighted to say Happy Publication Day to C. K. McDonnell as This Charming Man, the second book in The Stranger Times series hits the bookshelves. C. K. McDonnell might be better known to some of you as Caimh McDonnell, the writer of the darkly comic crime thrillers featuring Bunny McGarry. In my house he is also known as Mr Book Cafe's favourite author!
When The Stranger Times (book 1) was published last year it seemed a world away from Bunny and I wasn't sure how it would be received in the Doyle household. I needn't have worried, the OH loved it and spent much of his time insisting that I 'just listen to this bit' as he read and laughed his way through the book. I daresay I can expect more interruptions to my own reading time now that there's another 'Stranger' in town.
About the Book
Vampires do not exist. Everyone knows this. So it's particularly annoying when they start popping up around Manchester . . .
Nobody is pleased about it. Not the Founders, the secret organisation for whom vampires were invented as an allegory, nor the Folk, the magical people hidden in plain sight who only want a quiet life. And definitely not the people of Manchester, because there is nothing more irksome than being murdered by an allegory run amok. Somebody needs to sort this out fast before all Hell really breaks loose – step forward the staff of The Stranger Times.
It's not like they don't have enough to be dealing with. Assistant Editor Hannah has come back from getting messily divorced to discover that someone is trying to kidnap a member of their staff and while editor Vincent Banecroft would be delighted to see the back of any of his team, he doesn't like people touching his stuff – it's the principle of the thing.
Throw in a precarious plumbing situation, gambling debts, an entirely new way of swearing, and a certain detective inspector with what could be kindly referred to as 'a lot of baggage' and it all adds up to another hectic week in the life of the newspaper committed to reporting the truth that nobody else will touch.
About the Series
The Stranger Times is a Manchester based, weekly newspaper dedicated to the weird and the wonderful (but mostly the weird), it is the go-to publication for the unexplained and inexplicable.
Readers love The Stranger Times:
***** 'A delight from start to finish – laugh out loud funny yet with plenty of thrills.'
***** 'Full of wit and humour, and knows how to keep the reader hooked.'
***** 'You'll soon fall in love . . . fans of Pratchett, Gaiman, Aaronovich will be blown away.'
'Wonderfully dark, extremely funny' proclaimed ADAM KAY, author of the No.1 bestselling This is Going to Hurt
'A filmic romp with great characters, a jet-propelled plot, and a winning premise' said the GUARDIAN
JASON MANFORD thinks it's 'Hilarious. You'll never look at Manchester the same way again.'
The Chronicles of St Mary's series author JODI TAYLOR declared 'I loved this . . . great premise – great story – great characters . . . hugely enjoyable.'
And THE TIMES called it 'ripping entertainment from start to finish.'
Catch Up With Book One
The Stranger Times
There are dark forces at work in our world (and in Manchester in particular), so thank God The Stranger Times is on hand to report them . . .
A weekly newspaper dedicated to the weird and the wonderful (but mostly the weird), it is the go-to publication for the unexplained and inexplicable.
At least that's their pitch. The reality is rather less auspicious. Their editor is a drunken, foul-tempered and foul-mouthed husk of a man who thinks little of the publication he edits. His staff are a ragtag group of misfits. And as for the assistant editor . . . well, that job is a revolving door – and it has just revolved to reveal Hannah Willis, who's got problems of her own.
When tragedy strikes in her first week on the job The Stranger Times is forced to do some serious investigating. What they discover leads to a shocking realisation: some of the stories they'd previously dismissed as nonsense are in fact terrifyingly real. Soon they come face-to-face with darker forces than they could ever have imagined.
About the Author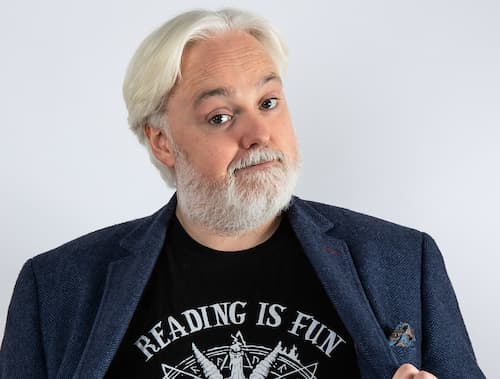 Irishman Caimh McDonnell is a former professional stand-up comedian and TV writer who now concentrates all of his energies on writing books. Born in Limerick and raised in Dublin, he has taken the hop across the water and calls Manchester his home.
His TV writing work has seen him work on some of the biggest topical comedy shows on British TV, such as the The Sarah Millican Television Programme, Mock the Week and Have I Got News for You. His work as a children's TV writer earned him a BAFTA nomination for the CBBC animated series 'Pet Squad' which he created.
These days he can be found happily writing his next book in the office in the back garden, with only his dogs and his imagination for company.
You can find out more about Caimh and his work via his website