Here's this week's list of new fiction titles. These are titles appearing in hardback/paperback for the first time. In some cases the ebook might already be available. All titles are based on the listings found in The Bookseller, so I'm not working from a list of all titles being published.
Just a reminder I don't see any advance copies, my choices are based on the blurb, gut instinct and what takes my fancy at the time.
(NB This post features Affiliate links from which I earn a small commission on qualifying purchases)
Index
Historical (I tend to take this as pre 1960's ie not in my lifetime!)
Crime, Thriller & Mystery
The Thirty-One Doors by Kate Hulme
If these walls could talk . . .

Scarpside House is famed for its beauty, its isolation, and its legendary parties.

Tonight, it hosts the Penny Club soiree. An annual gathering of lucky men and women from all walks of life, coming together to celebrate their survival against the odds.

But this year their luck is running thin.

Accidents do happen, after all . . .

And some are long overdue . . .
Shame the Devil by Graeme Hampton
Sometimes catching a killer means looking close to home…
A young father is stabbed to death on his front doorstep in East London. Kieran Judd was a well-liked sports coach and family man, so why would he be targeted for such a brutal death?
D.I. Matthew Denning and D.S. Molly Fisher are quickly thrown into an investigation with no leads to follow … and when the body of respectable schoolteacher Susan Elliot is discovered, her murder mirroring that of Kieran's, the case gets even more complex.
Faced with two murders with no obvious motive, East London Met worry that a random serial killer stalks their streets. But as Denning and Fisher uncover a dark secret linking the two victims, they are sent spiralling into an investigation in which exposing the truth will bring them directly into the sights of a killer with nothing to lose…
The Railway Detective's Christmas Case by Edward Marston
December 1864. As a cold winter wind scours the Worcestershire countryside, an excursion train comes through a tunnel in the Malvern Hills to be confronted by a blockage on the line ahead. The driver manages to slow the train down so that the impact is minimised, but the passengers are alarmed. The first person to alight is Cyril Hubbleday, the man in charge of the excursion to the delightful spa town of Great Malvern. He walks to the front of the locomotive and as he is talking to the driver, fireman and guard, Hubbleday is shot dead by a sniper.
Christmas is coming all too soon and Inspector Robert Colbeck and Sergeant Victor Leeming are under pressure to solve the case quickly. However, with a number of disputes and enemies in the shadows behind the seasonal excursion and the investigation hampered by heavy snow, the hunt for a cold-blooded killer is far from straightforward.
A Mansion for Murder by Frances Brody
1930, Yorkshire. Intrigued by a mysterious letter from a stranger offering important information, Private Investigator Kate Shackleton arrives in the mill village of Saltaire. At nearby Milner Field mansion, overshadowed by its reputation for misfortune and untimely deaths, she expects to meet the letter writer, Ronnie Creswell.
Kate soon hears the shocking news that Ronnie has been killed. At first his death appears to be a tragic accident at the mill, but soon it becomes clear that Ronnie's demise was no mishap. Kate is enlisted to help investigate the murder.
Kate moves into the tower rooms at Milner Field, as she tries to uncover resentments, industrial espionage, and old secrets in the close-knit village. Although she doesn't believe in curses, she wonders what sinister truth lies behind this latest in the litany of deaths connected to the infamous Milner Field.
Then just when things couldn't get any worse, a young girl in the village goes missing, and Kate must use all her strength and skill to unravel the mystery around the mansion once and for all . . .
Livid by Patricia Cornwell
Murder and mayhem. Scarpetta is back, and she's racing against the clock . . .

Chief medical examiner Kay Scarpetta is the reluctant star witness in a sensational murder trial when she receives shocking news. The judge's sister has been found dead. At first glance, it appears to be a home invasion, but then why was nothing stolen, and why is the garden strewn with dead plants and insects?

Although there is no apparent cause of death, Scarpetta recognizes tell-tale signs of the unthinkable, and she knows the worst is yet to come. The forensic pathologist finds herself pitted against a powerful force that returns her to the past, and her time to catch the killer is running out . . .
The Dark Room by Lisa Gray
Ex–crime reporter Leonard Blaylock spends his days on an unusual hobby, developing strangers' forgotten and discarded rolls of film. He loves the small mysteries the photographs reveal to him. Then Leonard finds something no one would ever expect, or want, to see captured on film—the murder of a young woman.
But that's impossible, because the woman is already dead. Leonard was there when it happened five years earlier.
He has never been able to shake his guilt from that terrible night. It cost Leonard everything: his career, his fiancée, his future. But if the woman didn't really die, then what actually happened?
The Brutal Tide by Kate Rhodes
REVENGE
DI Ben Kitto made many enemies in his time working as an undercover officer for the Met police, none more ruthless and calculating than gang leader Craig Travis.

IS WORTH
Travis has longed to make Kitto pay for his role in getting him convicted – and that day has finally arrived. Now, a dark and twisted killer is heading for the Scilly Isles, one who has waited a long time for revenge.

WAITING FOR . . .
With Kitto busy investigating the discovery of a body on the islands and distracted by the imminent arrival of his first child, his defences are down. He has so much to lose.

And Travis will stop at nothing to take it all from him.
The Moose Paradox by Antti Tuomainen
Insurance mathematician Henri Koskinen has finally restored order both to his life and to YouMeFun, the adventure park he now owns, when a man from the past appears – and turns everything upside down again. More problems arise when the park's equipment supplier is taken over by a shady trio, with confusing demands. Why won't Toy of Finland Ltd sell the new Moose Chute to Henri when he needs it as the park's main attraction?

Meanwhile, Henri's relationship with artist Laura has reached breaking point, and, in order to survive this new chaotic world, he must push every calculation to its limits, before it's too late…

Absurdly funny, heart-stoppingly poignant and full of nail-biting suspense, The Moose Paradox is the second instalment in the critically acclaimed, pitch-perfect Rabbit Factor Trilogy and things are messier than ever…
The Winter Garden by Nicola Cornick
Remember, remember, the fifth of November…
1605: Anne Catesby fears for her family. Her son, the darkly charismatic Robert, is secretly plotting to kill the King, placing his wife and child in grave danger. Anne must make a terrible choice: betray her only child, or risk her family's future.
Present day: When her dreams of becoming a musician are shattered, Lucy takes refuge in her family's ancestral home in Oxfordshire. Everyone knows it was originally home to Robert Catesby, the gunpowder plotter. As Lucy spends more time in the beautiful winter garden that Robert had made, she starts to
have strange visions of a woman in Tudor dress, terrified and facing a heartbreaking dilemma.
As Lucy and Anne's stories converge, a shared secret that has echoed through the centuries separating them, will change Lucy's life forever…
Violent Ends by Neil Broadfoot
Having the wrong client can be murder…

The voice was smooth, cultured, almost tender as it oozed from the phone into Connor Fraser's ear. "I've heard about you, Mr Fraser, and I'm very impressed by your work. So I've decided to employ you. I am going to kill Father John Donnelly sometime in the next seven days. And you are going to stop me – or die trying. If you check your account, you'll see I've deposited £70,000. And, just to be fair, I'll give you an hour, starting now, to find Father Donnelly before the games begin. Refuse my offer, and someone you love will die. Good hunting, to both of us."

The thought it's a sick joke lasts for as long as it takes Connor to find that £70,000 has been deposited into his PayPal account, and for him to receive an email with a picture of his grandmother. With no choice but to make a deal with the devil, Connor races to unmask a killer before he strikes and uncovers a mystery that stretches back decades, threatening the people closest to him.
General/Contemporary Fiction
It Starts with Us by Colleen Hoover

Lily and her ex-husband, Ryle, have just settled into a civil co-parenting rhythm when she suddenly bumps into her first love, Atlas, again. After nearly two years separated, she is elated that for once, time is on their side, and she immediately says yes when Atlas asks her on a date.

But her excitement is quickly hampered by the knowledge that, though they are no longer married, Ryle is still very much a part of her life—and Atlas Corrigan is the one man he will hate being in his ex-wife and daughter's life.

Switching between the perspectives of Lily and Atlas, It Starts with Us picks up right where the epilogue for the bestselling phenomenon It Ends with Us left off. Revealing more about Atlas's past and following Lily as she embraces a second chance at true love while navigating a jealous ex-husband, it proves that "no one delivers an emotional read like Colleen Hoover" (Anna Todd, bestselling author).
Holly's Christmas Secret by Kirsty Ferry
Once upon a Cornish Christmas …
It's almost Christmas at the Pencradoc estate in Cornwall which means that, as usual, tea room owner Sorcha Davies is baking up a festive storm. And this year Sorcha is hoping her mince pies will be going down a treat at 'The Spirit of Christmas Past' exhibition being organised at the house by new local antiques dealer, Locryn Dyer.
But as Locryn and Sorcha spend more time together, they begin to uncover a very special story of Christmas past that played out at Pencradoc more than a century before, involving a certain 'Lady' Holly Sawyer, a festive dinner party and a magical secret encounter with a handsome author …
Darling by India Knight
Marooned in a sprawling farmhouse in Norfolk, teenage Linda Radlett feels herself destined for greater things. She longs for love, but how will she ever find it? She can't even get a signal on her mobile phone.
Eventually Linda does find her way out from the bosom of her deeply eccentric extended family, and she escapes to London. She knows she doesn't want to marry 'a man who looks like a pudding', as her good and dull sister Louisa has done, and marries the flashy, handsome son of a UKIP peer instead.
But this is only the beginning of Linda's pursuit of love, a journey that will be wilder, more surprising and more complicated than she could ever have imagined.
Maureen Fry & the Angel of the North by Rachel Joyce
Ten years ago, Harold Fry set off on his epic journey on foot to save a friend. But the story doesn't end there.
Now his wife, Maureen, has her own pilgrimage to make.

Maureen Fry has settled into the quiet life she now shares with her husband Harold after his iconic walk across England. Now, ten years later, an unexpected message from the North disturbs her equilibrium again, and this time it is Maureen's turn to make her own journey.

But Maureen is not like Harold. She struggles to bond with strangers, and the landscape she crosses has changed radically. She has little sense of what she'll find at the end of the road. All she knows is that she must get there.

Maureen Fry and the Angel of the North is a deeply felt, lyrical and powerful novel, full of warmth and kindness, about love, loss, and how we come to terms with the past in order to understand ourselves and our lives a little better. Short, exquisite, while it stands in its own right, it is also the moving finale to a trilogy that began with the phenomenal bestseller The Unlikely Pilgrimage of Harold Fry and continued with The Love Song of Miss Queenie Hennessy.
In the Company of Strangers by Awais Khan
She had everything she ever wanted – apart from love.
As the wife of a wealthy but cruel businessman, Mona has all her heart desires: money, friends, social status… everything aside from freedom.
Reconnecting with old friend, Meera, introduces her to a world of glamour, parties and covert affairs. And when she meets Ali, a young man whose beautiful exterior hides the pain of his humble roots and family tragedy, Mona feels alive for the very first time.
Heady with love, Mona and Ali begin a delicate game of deceit that spirals out of control. But in a world where danger lurks on every corner, their forbidden love may not only destroy Mona's marriage, but have tragic and long-lasting consequences.
A captivating tale of love and loss, set against a backdrop of contemporary Pakistan that fans of Christy Lefteri and Lucinda Riley will love.
Snowed in for Christmas by Sarah Morgan
She's snowed in with the family. The only problem? They're not her family.
A family gathering
This Christmas the Miller siblings have one goal – to avoid their family's well-meaning questions. Ross, Alice and Clemmie have secrets that they don't intend to share, and they are relying on each other to deflect attention.
An uninvited guest
Lucy Clarke is facing a Christmas alone, and the prospect of losing her job – unless she can win a major piece of business from Ross Miller. She'll deliver her proposal to his family home in the Scottish Highlands and then leave. After all, she wouldn't want to intrude on the Miller's perfect family Christmas.
A Christmas to remember
When Lucy appears on the Miller's snow-covered doorstep, she is mistaken for Ross's girlfriend. But by the time the confusion is cleared up, a storm has hit and Lucy is stuck. As everyone settles in for a snowed-in Christmas, tensions bubble to the surface and suddenly Lucy finds herself facing a big family fallout with a family that isn't hers…
The Christmas Postcards by Karen Swan
Set in a chocolate-box village, a woman makes a surprising connection with a pen-pal that will change her life – and warm your heart – in the new novel from Sunday Times bestselling author Karen Swan.

It had been a make-or-break holiday for their marriage, but Natasha and Rob's rekindled romance is short-lived when their daughter's beloved soft toy disappears on the journey home.

As Natasha comforts the distraught child, she turns to social media for help. Miraculously, the toy is found, but it has become the lucky mascot of a man named Duffy, who is thousands of miles away.

When Duffy promises to keep Natasha updated with pictures, the pair begin a correspondence that soon becomes more meaningful to both of them. Sometimes, Natasha feels this stranger understands her more than the man lying next to her.

But as the weeks pass and Duffy heads deeper into the mountains, Natasha begins to notice a change in him. Then one day, the messages stop. Too late, Natasha wonders why he had ever needed a lucky mascot at all.
This Year's for Me and You by Emily Bell
When Celeste loses her best friend Hannah, she'll do anything to keep her spirit alive.

So when she uncovers her friend's old list of New Year's resolutions, Celeste vows to complete them all.

One adventure at a time, she rediscovers how wonderful life can be.

But when one resolution leads her to someone from her past, Celeste can't help but wonder . . .

Could the biggest adventure of all be falling in love?
Three's a Crowd by Simon Booker
What happens when an estranged father and son unwittingly fall in love with the same woman?

Out-of-work actor Harriet is recuperating from a crash-and-burn affair with Damian – aka 'Cockweasel' – and making ends meet as a barista when she meets two rather lovely men. Tom is a regular at the café, and seems like such a nice guy. Smooth-talking DJ Richard is older, but in great shape – a real silver fox.

Deciding to take a chance on both of them, Harriet doesn't realise at first that she is actually dating father and son. Tom and Richard aren't on speaking terms, and don't share a last name – so how was she to know? By the time everyone finds out, both Tom and Richard are truly madly deeply in love with Harriet, and she's faced with an impossible choice.

But as the battle for her affections intensifies, 'Cockweasel' makes an unexpected reappearance and begs her to give him another chance…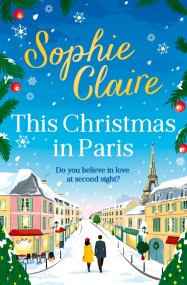 This Christmas in Paris by Sophie Claire
Six months after a life-changing accident, Carys is looking for a fresh start. Life in the cosy village of Willowbrook has lost its charm, and Carys finds herself dreaming of a new adventure. Feeling restless, she jumps when she is offered the chance to run The Red Cat Café, an eccentric neighbourhood eatery in the centre of Paris, over the busy festive period.
Mathieu needs a change of pace. Stuck in a job he hates, the only time Mat feels truly in control is when he posts scathing anonymous restaurant reviews on his blog, Madame Incognito. Mat knows he is capable of more than online negativity, but he can't seem to stop himself – especially when his follower count keeps growing . . .
When a chance encounter leads the two to meet, their connection is instant, and it seems like everything might fall into place. But the secrets they are keeping threaten to upturn everything, and put a stop to their blossoming romance before it has even begun. As the countdown to the holidays begins, can Carys open her heart enough to take a chance on love? And if she does, will all her dreams come true in time for Christmas?
The Glory Years by Mink Elliott
Kate O'Reilly loves a stroll down memory lane.
Nowadays she's a mother to Declan and Phoebe, has the semi-detached in suburbia and the dependable husband, Seamus – but when faced with a never-ending pile of laundry and new chin hairs sprouting overnight, no wonder she daydreams about the past.
A time when the music was better (Girl Power forever!), her social circle was wider, Cool Britannia reigned supreme and only a penalty shootout stood between England reaching the finals of Euro '96.
So, when a freak electrical storm takes her back in time to 1996, Kate's elated – this is her chance to discover what might have happened if she'd only done things a little bit differently in the Nineties.
But as she relives her youth again, will Kate realise some things really are best left in the past? And will she ever be able to get back to the family she misses so much? Even if none of them know how to load the sodding dishwasher…
The Gingerbread Café by Anita Faulkner
Can Gretel find the recipe for the perfect Christmas?
The Gingerbread Café is always full of Christmas magic. Come rain or shine (or even a July heatwave), there's always a hot chocolate bursting with cinnamon and marshmallows waiting for you. For introverted Gretel, it's been the perfect escape from 'real life'. The owner, Nell, is Gretel's last link to her late mum, and hiding out at the café feels so much safer than making new friends.
So when Nell suddenly passes, Gretel is left heartbroken. Then she discovers that Nell has left the café to her – but there's a catch. Gretel has to share the running of The Gingerbread Café with the least festive person ever: Nell's nephew, Lukas. Head chef at the local fancy restaurant, Lukas makes it clear he has no time for the café, Gretel or even Christmas itself, and Gretel's too busy struggling to save her burnt batches of gingerbread to work out why.
Gretel is determined to keep Christmas alive and make the café a success before Lukas hands the keys over to the scrooge-like developers. But she can't do it alone; besides an over friendly ferret and a waitress with a secret, the only person she has now is Lukas. Will it take a Christmas miracle to get the pair to finally see eye to eye, or could the ice already be melting?
A White Christmas on Winter Street by Sue Moorcroft
When Sky Terran returns to the village of Middledip after losing the job she loves, she anticipates a quiet Christmas getting used to her new life. However, the annual street decoration competition is coming up and this year, the residents of Winter Street are determined to win.
As she is pulled into the preparations, Sky quickly grows to love the quirky, tight-knit community she is now part of. Including the extremely handsome Daz, who soon becomes more than just a friendly neighbour.
But when Daz's ex turns up determined to win him back and it seems he might not be the man Sky thought he was, she remembers how much allowing people into her life – and heart – can hurt. As the snow falls, will she and Daz find a way through – and help win a Christmas victory for Winter Street?
Christmas at the Keep by Marcia Willett
Nestled in the Devon countryside, the Keep has always been a refuge for the Chadwick family: forever warm and welcoming through the challenges life has thrown at them. And the current occupants have certainly seen their share of challenges…

Lulu and her small son, Oliver, are staying at the Keep while they find their feet. Freddie's commission as a naval chaplain has just ended and he too is grateful to have been welcomed at the Keep whilst he decides where to go next. And now Ed, the black sheep of the family, is finally coming home after ten years living in the USA.

Ed's strange, secretive behaviour means that he often clashes with his family. But as the autumn draws to a close and a sprinkling of snow dusts the moors, could the promise of a family Christmas at the Keep be enough to ease tensions and soothe the sting of a long-buried secret?

The Chadwicks all know one thing for certain – no matter the circumstances, the Keep will always be there to welcome them home.
Historical
Molly & the Captain by Anthony Quinn
A celebrated artist of the Georgian era paints his two young daughters at the family home in Bath. The portrait, known as "Molly &the Captain", becomes instantly famous, its fate destined to echo down the centuries, touching many lives.

In the summer of 1889 a young man sits painting a line of elms in Kensington Gardens. One day he glimpses a mother at play with her two daughters and decides to include them in his picture. From that moment he is haunted by dreams that seem to foreshadow his doom.

A century later, in Kentish Town, a painter and her grown-up daughters receive news of an ancestor linking them to the long-vanished double portrait of "Molly &the Captain". Meanwhile friendship with a young musician stirs unexpected passions and threatens to tear the family apart.

Molly & the Captain is a story about time and art and love. Through the prism of a single painting it examines the mysteries of creativity, and the ambiguous nature of success. What weighs more, loyalty to one's talent or loyalty to one's blood? Does self-sacrifice ennoble the soul or degrade it? And what does it mean to speak of the past when its hold on the present is inescapable?

Through Anthony Quinn's signature gifts – period subtlety, intricate characterisation and storytelling verve this triptych novel melds three families and three centuries into a single vision of human frailty and longing.
The Forgotten Bookshop in Paris by Daisy Wood
Paris, 1940: War is closing in on the city of love. With his wife forced into hiding, Jacques must stand by and watch as the Nazis take away everything he holds dear. Everything except his last beacon of hope: his beloved bookshop, La Page Cachée.
But when a young woman and her child knock on his door one night and beg for refuge, he knows his only option is to risk it all once more to save a life…
Modern day: Juliette and her husband have finally made it to France on the romantic getaway of her dreams – but as the days pass, all she discovers is quite how far they've grown apart. She's craving a new adventure, so when she happens across a tiny, abandoned shop with a for-sale sign in the window, it feels fated.
And she's about to learn that the forgotten bookshop hides a lot more than meets the eye…
The Wartime Bookshop by Lesley Eames
Alice is nursing an injured hand and a broken heart when she moves to the village of Churchwood at the start of WWII. She is desperate to be independent but worries that her injuries will make that impossible.

Kate lives with her family on Brimbles Farm, where her father and brothers treat her no better than a servant. With no mother or sisters, and shunned by the locals, Kate longs for a friend of her own.

Naomi is looked up to for owning the best house in the village. But privately, she carries the hurts of childlessness, a husband who has little time for her and some deep-rooted insecurities.

With war raging overseas, and difficulties to overcome at home, friendship is needed now more than ever. Can the war effort and a shared love of books bring these women – and the community of Churchwood – together?
So that's all for this week.
Happy Reading!